This is a Real Pastor?!?!
I have visited this church's website and found some odd stuff. First is there Doctrinal Statement.
Doctrinal Statement

We believe that the King James Bible is the word of God without error.

We believe all Scripture was given by inspiration of God, and that God also promised to preserve his word. Divine inspiration is of no value to Christians without God's promise of preservation.

We believe that salvation is by grace through faith. Being born again by believing on the Lord Jesus Christ is the only requirement for salvation.

We believe that Jesus is God, and that Jesus Christ was begotten by the Holy Ghost of the virgin Mary.

We believe only in the local church and not in a universal church.

We reject the teaching of Calvinism and believe that God wants everyone to be saved.

We are Non-dispensational.

We believe that life begins at conception (fertilization) and reject all forms of abortion including surgical abortion, "morning-after" pills, IVF (In Vitro Fertilization), birth control pills, and all other processes that end life after conception.

We oppose worldliness, modernism, formalism, and liberalism.
I have removed some things for brevities sake, but this is the weirdest SOF I have ever seen. I was sitting here thinking why is this so odd? then the website told me...
Pastor Anderson holds no college degree
Oh, that explains it, wonder why the guy can't exegete his way out of a paper bag??? Wonder why he feels that one of the most inferior biblical texts (1611 KJV) is the only truly inspired word of God? Wonder why He preaches sermons about real men who "piss" standing up? Because He has received no training on what it is to be a pastor. He is an Average Joe, who has Memorized a lot of the bible, over 100 Chapters according to the church's website, who has no idea of how to practice good hermeneutics. In fact, the Guy says that that Bible College is Blasphemous!! This man is clearly clueless about theology. I pray that God would get him into a good Sem.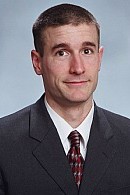 Pastor Anderson
I understand you are a KJV Only Guy... But I have to say that
Your argument
is full of logical errors and frankly is just unconvincing. But Just for fun, I will give an error in the KJV, to prove that it isn't the perfect text....
Hebrews 4:8 says For if Jesus had given them rest, then would he not afterward have spoken of another day. in the 1611 KVJ.
Hebrews 4:8 says For if Joshua had given them rest, God would not have spoken of another day later on. in the ESV.
Jesus did give us rest, and no other day was spoken of... We find rest and fulfill the 4th commandment by being Christians and Having rest in Jesus.
A real Man doesn't need to stand up to Pee, a Real man needs to Love Jesus, and Understand Theology.